3
Speakers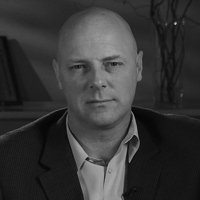 Shawn Henry
Recently Retired FBI EAD, currently President CrowdStrike Services
Shawn retired as FBI Executive Assistant Director (EAD) in March 2012, with responsibility for all criminal and cyber programs and investigations worldwide, as well as international operations and the FBI's critical incident response. During his career as a Special Agent, Shawn served in three FBI Field Offices and at FBI Headquarters, where he held a wide range of operational and leadership positions, including Assistant Director in Charge of the Washington Field Office.
Having served in multiple positions relating to cyber intrusions since 1999, Shawn has been the Bureau's outspoken top agent on cybersecurity issues, and is credited with boosting the FBI's computer crime and cybersecurity investigative capabilities. In addition to his last position as EAD of the Criminal, Cyber, Response and Services Branch, he served as both Deputy Assistant Director and Assistant Director of the Cyber Division at FBI Headquarters; Supervisor of the FBI Cyber Crime squad in Baltimore; and Chief of the Computer Investigations Unit within the FBI-led National Infrastructure Protection Center.
During his tenure, Shawn oversaw major computer crime and cyber investigations spanning the globe, from denial-of-service attacks, to major bank and corporate breaches, to nation-state sponsored intrusions. Shawn led the establishment of the National Cyber Investigative Joint Task Force (NCIJTF), a multi-agency center led by the FBI, which coordinates and shares information about cyber threat investigations. He also forged partnerships domestically and internationally within governments and the private sector, and posted FBI cyber experts in police agencies around the world, including Amsterdam, Romania, Ukraine, and Estonia. Early in his cyber career, Shawn served on the U.S. delegation to the G8 as a member of the High-Tech Crimes Subgroup.
Shawn was an original member of the National Cyber Study Group, under the direction of the Office of the Director of National Intelligence. This organization developed the Comprehensive National Cybersecurity Initiative (CNCI), the U.S. government's national strategy to mitigate threats and secure cyberspace, to which Shawn was a key contributor.
Shawn has been a keynote speaker on a multitude of cyber issues in venues around the world. He has been sought out by the media for his cyber expertise, and has been featured on television and radio, including 60 Minutes; CBS Evening News; Good Morning America; The Today Show; Dateline; Rock Center with Brian Williams and C-SPAN. He has also conducted interviews with numerous print and online publications, including Forbes Magazine, Business Week, The Wall Street Journal, The Associated Press, The New York Times, and USA Today.
Shawn has been professionally recognized during his career. In 2009, he received the Presidential Rank Award for Meritorious Executive for his leadership in enhancing the FBI's cyber capabilities, and was recognized by SC Magazine as one of the top industry pioneers who shaped the information security industry. In 2010, he was named one of the most influential people in security by Security Magazine; received the Federal 100 Award as a government leader who played a pivotal role in the federal government IT community; and was selected as cybercrime fighter of the year by McAfee Inc.
Shawn earned a Bachelor of Business Administration from Hofstra University and a Master of Science in Criminal Justice Administration from Virginia Commonwealth University. He is a graduate of the Homeland Security Executive Leaders Program of the Naval Postgraduate School's Center for Homeland Defense and Security. As President of CrowdStrike Services, Shawn leads a world-class team of cybersecurity professionals who respond to computer network intrusions to mitigate Advanced Persistent Threats (APT).
Sessions with this speaker