upcoming events and sponsorship opportunities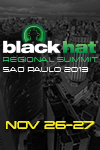 Black Hat Regional Summit: Sao Paulo 2013
Nov 26-27
We are pleased to announce the second site in the Black Hat Regional Summit series will be hosted in Brazil. The event will be co-located with the IT Forum Expo, with a two-day program of Black Hat Briefings and Workshops.
---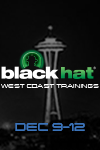 Black Hat West Coast Trainings 2013
Seattle, WA
Dec 9-12, 2013
Until this year, Black Hat Trainings have only been available at our three annual international events. Due to popular demand, and requests for more opportunities to take courses from our USA show, West Coast Trainings will offer our highly technical, hands-on courses presented by thought leaders from the international information security community. Professionals attending these cutting-edge trainings will come away with a greater understanding of security risks to the nvironments and computer systems with which they work every day. Sponsorship allows technology vendors to engage with this audience in an intimate setting, while they're focused on learning and solving security issues.
---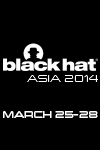 BLACK HAT ASIA 2014
SINGAPORE
MAR 25-28, 2013 (EXPO MAR 27-28)
Black Hat, the world's leading family of information security events, returns to the Far East with Black Hat Asia 2014. Over 500 security professionals, researchers and service providers will gather to participate in intense Trainings courses plus two days of ground-breaking Briefings, as well as to evaluate the latest solutions in the Sponsor Hall. As the international InfoSec community continues to grow, along with threats to the global information infrastructure, the time is right for Black Hat to bring a security event of this caliber back to Asia.
---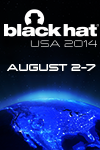 BLACK HAT USA 2014
LAS VEGAS
AUG 2-7, 2013 (EXPO AUG 6-7)
Next August, Black Hat returns Las Vegas and a new venue, the Mandalay Bay Convention Center, to host the premier information security conference of the year. This is our flagship event, attracting more than 7500 high-level security professionals for some of the most interesting and provocative presentations of the year.
---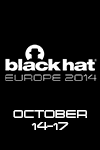 BLACK HAT EUROPE 2014
AMSTERDAM
OCT 14-17, 2014 (EXPO OCT 16-17)
Each year, nearly 600 members of the international InfoSec community gather at Black Hat Europe to confer, collaborate and learn from the brightest minds in the security industry. Black Hat Europe is unique in its ability to provide intense security Training courses, followed by an additional two days of thought-provoking Briefings, as well as a Sponsor Hall showcasing cutting edge products and solutions. No other European security event offers the depth of content combined with the opportunities for networking and career growth that Black Hat delivers.
---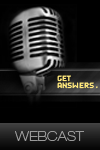 black hat webcast series
Security news doesn't always wait for conference season. That's the guiding principle behind the Black Hat Webcasts – a regular series of live web events focusing on what's hot in the infosec space all year long.
---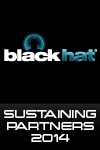 Sustaining Sponsor Program
The Black Hat Sustaining Sponsor Program aims to increase visibility for organizations that support the mission of Black Hat by sponsoring multiple events and/or webcasts. Sponsors that qualify are called out as Sustaining Sponsors in all conference materials and proceedings, and are featured on the main page of the Black Hat site and on a devoted webpage.