Training: July 28-29 • Briefings: July 30-31
Black Hat USA 2003 Presentations are now online.
USA Registration is open. Paid delegates of the Black Hat Briefings USA will receive free admission to DEF CON 11.
Black Hat USA 2003 Briefings Schedule. There will be 10 different tracks over 2 days.
Keynote Speakers:
Philip R. Zimmermann, Creator, Pretty Good Privacy and
Bruce Schneier, Founder & Chief Technical Officer, Counterpane Internet Security

Luncheon Speakers:
Dario Forte, CFE, CISM, Security Advisor, European Electronic Crimes Task Force (EECTF)
Marcus Sachs, P.E., Cyber Program Director, Information Analysis and Infrastructure Protection, US Department of Homeland Security
Selected Black Hat USA 2003 Briefings Speakers. Biographies, topic descriptions and abstracts can be found here.
Feedback forms will be available at the show. Let us know who was hot, who was not and get a chance to win Admission to a future Briefings of your choice.
Selected Black Hat USA 2003 Training.
Training Update:
Training Schedule is now available.
Hotel & Venue information for Black Hat USA 2003 Briefings and Training. Reserve your room at the same time as you register for the Briefings. You must register by June 28, 2003 in order to receive the group rate.
Back by popular request, Shop Black Hat. Buy a wireless card, and other assorted goodies here. If you have a suggestion as to what you might like to see carried in the store, please drop us a line store<a>blackhat.com
BreakPoint Books will again be our official onsite bookseller. Discounts at the bookstore will be given to paid delegates.
Interested in sponsorship opportunities? Contact us.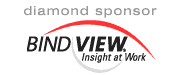 Learn more about our Black Hat USA 2003 Briefings Sponsors.
All paid delegates will receive a copy of "Hack Proofing Your Network, Second Edition" by Ryan Russell, compliments of Syngress, our official book sponsor.

Wireless internet access is available during the show. Bring your 802.11b cards or buy one on-site.

Booksigning with the authors of "Stealing the Network: How to Own the Box" during the Gala Reception. Books are available from our official onsite bookseller, BreakPoint Books.
Special thanks to Bruce Schneir who has generously provided a copy of "Secrets and Lies: Digital Security in a Networked World" to every Briefings delegate. If you can find Bruce, have him sign your copy!