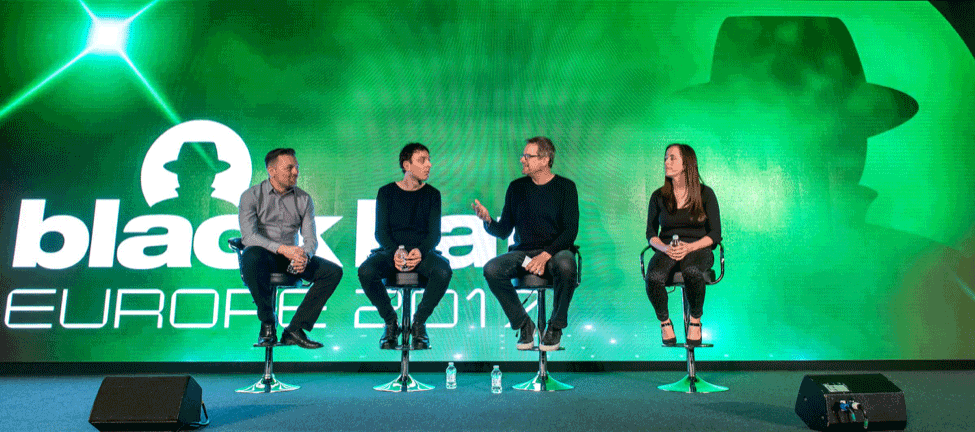 Thank you to everyone who attended Black Hat Europe 2017. This year, we welcomed more than 2,000 Information Security professionals from around the world for innovative research and skill-building. Here are a few show highlights and key links:
 
Hands-on Trainings opened the show, teaching in-demand, highly-sought after attack and defense skills to beginner and advanced practitioners. Trainings offered attendees hands-on experience detecting, preventing and alleviating modern security threats. See the Black Hat Asia Trainings Schedule to Secure Your Spot>>
Executive Summit, gathered C-Level Security Leaders from around the region for a full day of high-level discussions and networking. Industry experts conveyed breach mitigation plans, GDPR developments, implications of AI and more. See the Agenda and Abstracts Here>>
Two Keynotes kicked off cutting-edge, groundbreaking Briefings. Chris Painter, Former Coordinator of Cyber Issues for the US State Department, presented "Diplomacy and Combating Evolving International Cyber Threats," in which he discussed the emerging international cyber security field and uncharted cyber diplomacy landscape. CEO and Founder of Invisible Things Lab, Joanna Rutkowska presented "Security Through Distrusting," and elaborated a scalable security strategy, based on benefits and compromises of opposing methodologies. Subscribe to YouTube for Early Keynote and Briefings Content Releases>>
Researchers from around the world presented more than 40 Briefings on contemporary security risks, strategies and modifications. Speakers unveiled BlueTooth attack vectors, WPA2 weaknesses, red team techniques and more. Download Briefings Materials Here>>
The open-source community showcased a variety of new tools and enhancements of established tools. This year's lineup spanned 12 unique tracks, from Mobile Hacking to Vulnerability Assessment. Check out the ToolsWatch compiled GitHub Repository>>
Day Zero premiered with a special presentation of Black Hat Europe Briefings by Global Head of Cyber Security Research, Grupo Banco Santander and Black Hat Review Board Member, Daniel Cuthbert. Attendees received an introduction to Black Hat and first-hand account of highly-anticipated Briefings.
Black Hat awarded over 120 Briefings Passes through the Black Hat Europe Student Scholarship Program and partnership with CyberSecurity Challenge UK. Twenty (20) CyberSecurity Challenge UK Master Class participants received Full Briefings passes for their achievements during a weekend long cyber attack simulation test. These initiatives were designed to increase the accessibility and inclusivity of Black Hat while supporting the career development and continuing education of cyber security enthusiasts.
The Business Hall brought leading security products and solution providers plus multiple, engaging presentations and programs. 25-minute Business Hall Sessions shared security compliance models, pentesting schemas and endpoint protections. Check out Business Hall Session Abstracts>>
The Black Hat Europe NOC (Network Operations Center) welcomed Briefings attendees to meet the tools and team in charge of building and securing the network.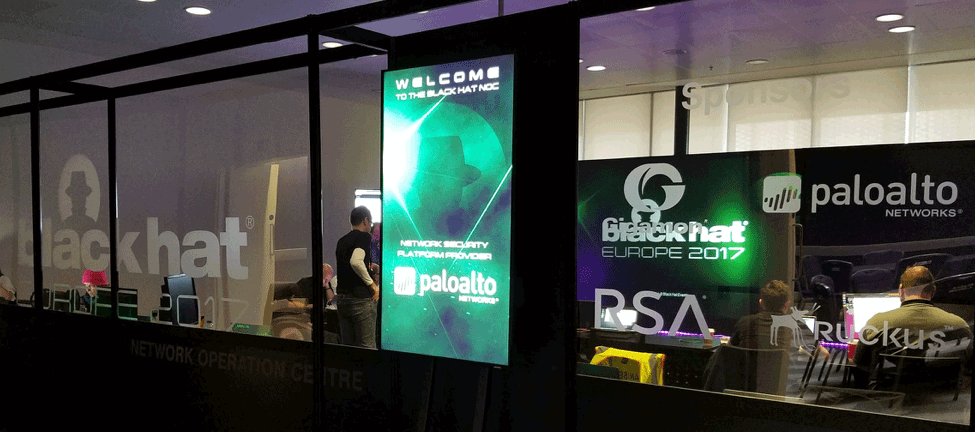 See more photos from Black Hat Europe 2017 >>