This year thousands of security professionals from around the world are making plans to be a part of Black Hat USA 2011, but not all of those people will be in Las Vegas at the live event. With Black Hat Uplink, you can experience essential content that shapes the security industry for the coming year from the comfort of your machine.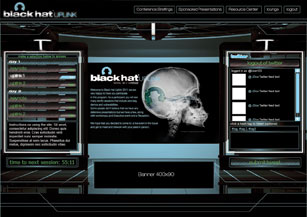 Uplink Delegates will get a taste of Black Hat USA, our flagship event, free of charge.
Live Streaming Video - Aug 3-4:
2 Briefings tracks, featuring 20 sessions.
2 Keynote Presentations
Pwnie Awards 2011
Interact with fellow con-goers, Uplink Delegates, Uplink Underwriters, and the security community via Twitter during the Briefings.
For the full Briefings schedule visit the USA Schedule.
On-Demand Access for 60 days after the live event:
2 Keynote Presentations
Pwnie Awards 2011
2 "Best of Black Hat" presentations from previous live events
Uplink Underwriters webinars and whitepapers
In addition to the Live Stream and On-Demand Access you'll receive promotional pricing for the Source of Knowledge DVDs should you wish to purchase ALL the recordings from Black Hat USA.